March 12, 2015
This trip was in the making for over ten years, a trip which was on my "wish list" for many years, and time (and cost) were the biggest reasons to put it off.  I finally made the decision to make the trip in the fall of 2014, with the idea to catch an NHL game in each different city for the last 30 games of the regular season.
There were many highlight games along the way, including stops in each of the "original six" cities, which included a Bruins game on St. Patrick's Day.  The first game of my trip took place at Nassau Coliseum, which was the last year the Islanders played in this building, and the last game of my trip took place on Saturday April 11th in Toronto, for a matchup with the Montreal Canadiens, a game which was broadcast on Hockey Night on Canada.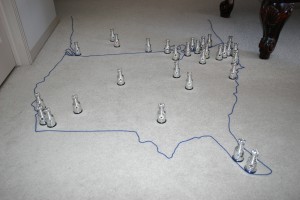 In order to give you an idea of the planning, here's a map I created on my rumpus room floor, which shows the location of each NHL city. This map was helpful in making the travel plans, as I looked for ways to keep the travel miles to a reasonable limit. All told, I traveled approximately 24,000 miles (38,000 km), crossing the border a total of eight times, taking 27 flights, one train, and two trips by automobile in making my way from city to city. This trip was a fundraiser for Make-A-Wish, and approximately $43,000.00 was raised.   All costs associated with this trip were my own, so 100% of all donations went directly to Make-A-Wish.
7 responses to "Pre Trip Planning"