FINAL REPORT: 30games-30nights
It's been two years since I completed my trip to see 30 NHL games in all 30 rinks (and 30 days in a row), and I still smile when I think about my 30games-30nights trip.  I'm particularly pleased that I was able to exceed my goal to raise $30,000.00 for Make-A-Wish.  (Over $43,000.00 was raised.)  Thanks to everyone who donated, and special thanks to Honda Canada and Molson Canadian who so generously donated, helping me reach my goal.  Honourable mention to the Ottawa Senators and New Jersey Devils, who were the most generous teams over my 30 games-30nights trip.
I'm still amazed that I was able to make every game (and every puck drop).  When you think of the number of flights (over 30, including connections), there were a lot of things which could have gone wrong.  But luck was on my side – the grand total of flight delays amounted to 3 1/2 combined in my 30-day trip.  The trip was a trip of a lifetime – a dream for a lifelong hockey fan like me.
Here are a few highlights of my trip, including favourite rinks, favourite memories, etc.
Oldest arena: Technically Madison Square Garden is the oldest arena, but it underwent a $1 billion renovation 3-4 years ago, so it doesn't count.
The two oldest arenas visited were Nassau Coliseum (Islanders) and Rexall Place (Oilers). The Islanders have since moved to Barclays Center (in Brooklyn, where the New York Knicks play), and the Oilers now play at the beautiful Rogers Place, catapulting the the Oilers from near worst arena to the most beautiful arena in the NHL.  So the oldest arena for 2016-2017 is the Joe Louis Arena, but next season, the Red Wings move into their new arena, and with a 20-year $125 million naming rights deal, their new arena is called Little Caesars Arena.  (This leaves Madison Square Garden as the only NHL arena without a "naming rights deal."  Can you imagine how much MSG "forgives" in lost revenues to keep the integrity of the MSG namesake?)
So with the Oilers, Islanders, and Red Wings moving into new facilities, the Calgary Flames hold the distinction of playing their hockey games in the oldest arena in the NHL:  the Scotiabank Saddledome which was built in 1983.  There's talk in Calgary about building a new arena, but with the drop in oil prices (and the affect on the Alberta economy), plans are on hold for now.
To follow, is my report from April 2015 of arenas visited, and impressions of each building, their fans, and experiences along the way.
Newest arena visited: Consol Energy Centre (Penguins) which was built in 2010. Absolutely gorgeous facility!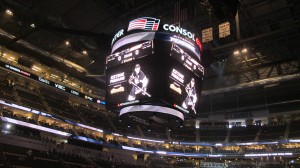 Most seats: United Center (Chicago) with 19,717 seats, and 22,428 capacity with standing room.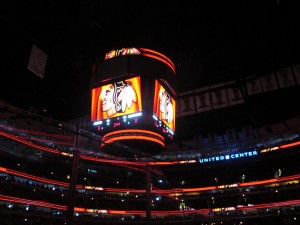 Least seats: MTS Centre (Winnipeg), with 15,016 seats (Probably explains why it's so hard to get a ticket to a Jets game.)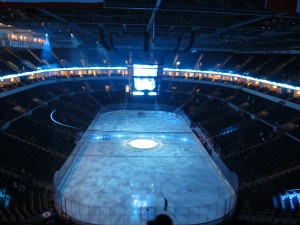 Loudest arena (fan noise):  Four-way tie between Chicago Blackhawks, New York Rangers, Nashville Predators, and Winnipeg Jets.
Quietest fans: Buffalo (But this may be due to the tough season they're had last season.  But things will turn around for the Sabres.)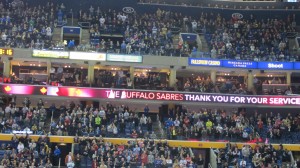 Best fan celebration after a home team goal:  Chicago Blackhawks (There's nothing like hearing the fans sing the Chelsea Dagger song.) Winnipeg and Nashville are up there too!
Best Jumbotrons: New York Rangers, Philadelphia Flyers, Pittsburgh Penguins and Florida Panthers.
Largest Jumbotrons:  Colorado Avalanche (it stretches from blue line to blue line), and Tampa Bay is very close to the same size.
Brightest ice (yes, brightest ice): Philadelphia and Pittsburgh have the brightest ice. It's amazing watching a game in these two cities. It's like watching a game on HDTV.
Coolest lighting feature:  Vancouver Canucks.   I believe they're the only arena which has fibre-optic lighting on the partitions between the glass.  Very very cool!
Coolest 3D affects for puck-drop countdown:  Tampa Bay Lightning, New Jersey Devils, Montreal Canadiens and Toronto Maple Leafs.
Favourite anthem singers: It's a three-way tie between Lauren Hart (Philadelphia), Rene Rancourt (Boston) and Sonya Bryson (Tampa Bay), but in fairness, I didn't get to see Mark Donnelly from Vancouver, who had the night off when I was there. (Donnelly is the operatic singer who took a tumble when he donned skates to perform the Canadian anthem at the Canucks home opener this season.)  I also missed seeing the lovely and talented Pia Toscano, who usually does the anthem at the Staples Center in Los Angeles.
Loudest fans singing the national anthem:  Montreal. They're loud in both of Canada's official languages, and in-tune too!
Best chants during the singing of the national anthem(s): Chicago for their deafening cheers during the singing of the national anthem, Dallas fans for shouting out "Stars," Flames fans for shouting out "See" (C), when "O say can you see" is sung, and Jets fans for chanting "True North" when this phrase is sung in the Canadian national anthem. Very very cool!
Best location for an arena:  Nashville, right in the heart of downtown, in "The District" area.  And Columbus for their "Arena District" too!
Best pre-game experience: Tampa Bay, Arizona, Nashville and Columbus.  (So much going on before and after the games, all within walking distance.  Lots of areas outside their arenas for food, drink and entertainment before the game.)
Most enjoyable hockey game:  The Senators-Capitals game in Ottawa on April 4th. Both teams needed the points for playoff position, and Ottawa jumped out to an early 3-0 lead. Washington tied up the game in the third period, and Kyle Turris scored a beauty for the Senators to win the game in overtime!  Great game!
Highest priced beer: $14 at the BB&T Center (Florida Panthers) for a speciality beer. And for a cocktail and glass of wine at Madison Square Garden – $22.00.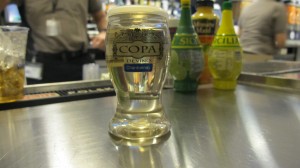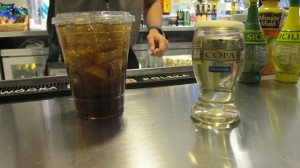 Lowest priced beer: $8 at First Niagara Center (Buffalo).
Favourite beer:  Molson Canadian – hands down!
Favourite arena food items: Philly Cheesesteak (Philadelphia of course), Pyrogy Dog (Vancouver), Jumbo Jet Dog (Winnipeg), and a Reuben (Ottawa) were my favourites!  (I usually only ate half or less of any of the arena foods suggested by fans, sometimes only a few bites.)
Favourite Mascot: Sharkie from San Jose!  I was not feeling very well for this game (which was #20 of my trip), and while it's hard to believe, a visit by Sharkie absolutely lifted my spirits!
Favourite Cheerleaders:  The Ducks gals were awesome – very sweet, and they knew their hockey!  Honourable mention to Arizona, Washington and Tampa Bay.
Best arena experience: Verizon Center (Washington).  I was given a tour of the building, joined season-ticket holders for a Q&A with the "Goalie Whisperer" Mitch Korn, met Caps owner Ted Leonsis and Caps head coach Barry Trotz.  (Thanks to my new-found friend Nestor Aparicio for making all of this happen!)
Best overall experience:  Stop #30 in Toronto.  Attended the morning skate, and given a special Maple Leafs jersey. Met legendary HNIC play-by-play announcer Bob Cole, and Leafs president Brendan Shanahan.  Received a tour of the NHL offices, including the "Situation Room" where disputed goals, etc. are discussed and determined.  (Kris King was one of the nicest guys I met in my travels.) Tour of the HHOF (first time touching the Stanley Cup), and a tour of the Hockey Night in Canada studio. Cheque presentation by Honda Canada to Make-A-Wish.  Tour of the HNIC set. Cheque presentation by Molson Canadian for their #anythingforhockey campaign.  And finishing up with a game between the two most storied rivals in hockey history – the Habs and the Leafs.
Best fans: I know this is going to sound like a cop-out, but it's a 30-way tie for me! The fans in every building have been amazing, some coming up to ask me about my trip, some who want to take their picture with me, and many who promise to make a donation on-line to Make-A-Wish! And so many who offered encouragement and support throughout my journeys!
Friendliest fans:  The fans were great everywhere, but Winnipeg was just a notch above.  Very friendly people in Manitoba – maybe that's why it's on their license plates.
Most generous fans: Edmonton. My home town was great with their support from the day I left to the day I returned from my trip!  Take a bow Edmonton!
Most generous teams:  New Jersey Devils ($3,500.00), and the Ottawa Senators ($2,200.00) were very generous with their support of Make-A-Wish!  They also provided me with signed jerseys, which I donated to be auctioned off for Make-A-Wish.
Most expensive ticket:  $250.00 in Chicago – row 5 at the corner near the goal line.  I was able to see Brent Seabrook skate by for a touching hello to his young son during the pre-game skate.
Cheapest ticket:  $55.00 for the best seat in the house at the first Niagara Center in Buffalo – just a bit right of centre ice, and row 14.  I actually like to sit a bit higher, between rows 18-24 for the best view.  Some fans prefer to be in the first or second row, right up against the glass, and many rinks charge the most for these seats.
Favourite interview:  I probably did over 60 media interviews over my trip, and the media deserves a lot of credit for promoting my trip, most importantly, donations to Make-A-Wish.  My favourite interview was with Luke Fox from Sportsnet. (Pictured on the left in the first photo below, and waiting patiently as I'm chatting it up with a couple of fellow hockey fans.)  Honourable mention goes out to Dan Murphy (Vancouver), Dave Maetzold (Columbus), the nhl.com network, the gang in Nashville, and last but not least, Lauren Howe (Toronto).
Biggest 50/50:  Edmonton Oilers:  $51,165.00 (That's the winner's take, and that's an average amount for Edmonton.)  Ticket sellers in all cities are volunteers. Here's Maddie from St. Louis.
Smallest 50/50:  New York Islanders:  $1,515.00
Closest call missing a game.  Game #29 in Columbus.  Leaving Montreal, I had to catch two flights, which meant a stopover in Toronto. My plane had maintenance issues (that's the culprit below), so I did not arrive in Columbus until 5 p.m. for a 7 p.m. game.  Close call, but I made it, and I can accurately state that I made every opening face-off for all 30 games.  In fact, I made every pre-game skate!
Weight gained/lost during the trip.  Hard to believe, but I lost 8 pounds over the course of my 30-day trip. Here's me at the beginning of my trip (New York Islanders), and thereafter, at the end of my trip.  Can't really tell the difference actually.  By the way, that's Alex Forani from Maple Leafs Sports and Entertainment beside me for the last game of my trip.  I met thousands of awesome people on my trip, but Alex was tops!
Heaviest Security:  New York and Boston.  (Understandably.)  You have to pass through a metal detector, then a wand detector, and then a frisk.  All three steps mandatory.  In Edmonton, where I share a pair of season tickets, they randomly frisk the odd fan, and that's it.  (No metal detectors.) I have not been frisked once this season.  Here below is a photo taken in Denver to give fans in low-security level rinks an idea of what it's like to go to games in most other rinks.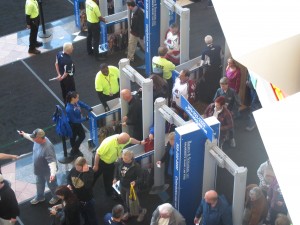 Most starstruck encounters: Bob Cole and Brendan Shanahan, who I met in Toronto on the last day of my trip but Phil Esposito in Tampa Bay too!  I really admired Phil's speech after game four of the '72 Summit Series.  I was only 11 years old, but it really made an impact on me!  And it seemed to turn things around for the Canadian team!  I also met up with Bobby Orr, well his statue, but it was still a special experience.
Favourite keepsake:  I did not take this trip to amass memorabilia or gain free hockey tickets.  In fact, I purchased tickets for all but 6 games, and for tickets donated, I made a donation to Make-A-Wish reflective of the value of the tickets provided.  For team jerseys given to me, I am donating these to be auctioned off, with the proceeds going to Make-A-Wish.  But one keepsake I will keep is a sterling silver puck which was presented to me by the NHL. Andrew Kavanagh made the presentation at the conclusion of my tour of the NHL offices, and insisted that I keep this memento as a thank you from the NHL for the passion and love I have for the game!
And last but not least, my rankings (subjective of course) for the top 20 arenas in the NHL.  For criteria, I considered the building where they play (arena amenities) and arena location the highest, then fan support, entertainment features, and to some extent team history.  I didn't highly consider team performance, otherwise my list may have just been the top 16 teams who made the playoffs. It was very very close between most of these positions, so the difference between "finishing tenth (for example) instead of 5th or 6th was very tight.
#1.  Nashville Predators (Bridgestone Arena)
#2:  New York Rangers (Madison Square Garden)
#3:  Columbus Blue Jackets  (Nationwide Arena)
#4:  Winnipeg Jets  (MTS Centre)
#5:  Tampa Bay Lightning (Amalie Arena)
#6:  Chicago Blackhawks (United Center)
#7:  New Jersey Devils  (Prudential Center)
#8:  Minnesota Wild (Xcel Energy Center)
#9:  Montreal Canadiens (Bell Centre)
#10:  Washington Capitals  (Verizon Center)
#11:  Arizona Coyotes  (Gila River Arena)
#12:  Los Angeles Kings (Staples Center)
#13:  Toronto Maple Leafs (Air Canada Centre)
#14:  Pittsburgh Penguins (Consol Energy Center)
#15:  St. Louis Blues (Scottrade Center)
#16 (Five-way Tie):  Dallas (American Airlines Center), Vancouver Canucks (Rogers Arena), Philadelphia Flyers (Wells Fargo Center), Boston Bruins (TD Garden), Colorado Avalanche (Pepsi Center)
This leaves ten arenas off the list, and five of those teams have plans to either move into a new arena soon, or talks are underway for a new arena development.  Once again, these are my rankings, based on my experience the past 30 days.  I did my best to examine all areas in and around each arena I visited to give each arena a fair assessment.
To those arenas who made my "top 5″ (or even "top 10″), congratulations!  And to those arenas which did not "make the mark," don't take it personally.
And now let me tell you why Nashville made #1 on my list!  Bridgestone Arena is a modern arena, with wide open areas in the concourse levels, and with plenty of food and drink options for fans.  The arena location is downtown Nashville, adjacent to "The District." There's live music, a variety of restaurants, pubs and saloons (a real club scene) where people can enjoy themselves before or after a hockey game.  Getting back to the arena, the Predators fans were about the loudest fans I encountered on my trip, and they're knowledgable and passionate hockey fans.  Their puck-drop countdown is loaded with excitement, and the fans stood up when the players came out (through the open jaws of a giant tiger), and they remained standing (and cheering loudly) through until the singing of the anthem. The Predators are one of the top four teams with fans wearing their home team jersey.  (Chicago, Washington, and Calgary are the other three teams.) While team performance is not high on my criteria level, it certainly helps that the Predators enjoyed a very successful regular season.  And lastly, the media interest was near the highest for my visit, more than most of the "original six" teams, with the exception of Toronto.  The fans in Nashville could certainly identify with a guy seeing a hockey game in 30 different rinks, and in 30 consecutive days! The fans were absolutely awesome! Well done Nashville!  I'm planning on returning to Nashville for the 2016 All-Star game!
Pre Trip Planning
This trip was in the making for over ten years, a trip which was on my "wish list" for many years, and time (and cost) were the biggest reasons to put it off.  I finally made the decision to make the trip in the fall of 2014, with the idea to catch an NHL game in each different city for the last 30 games of the regular season.
There were many highlight games along the way, including stops in each of the "original six" cities, which included a Bruins game on St. Patrick's Day.  The first game of my trip took place at Nassau Coliseum, which was the last year the Islanders played in this building, and the last game of my trip took place on Saturday April 11th in Toronto, for a matchup with the Montreal Canadiens, a game which was broadcast on Hockey Night on Canada.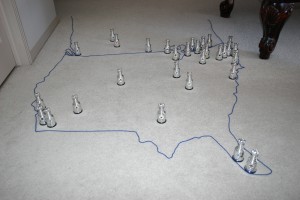 In order to give you an idea of the planning, here's a map I created on my rumpus room floor, which shows the location of each NHL city. This map was helpful in making the travel plans, as I looked for ways to keep the travel miles to a reasonable limit. All told, I traveled approximately 24,000 miles (38,000 km), crossing the border a total of eight times, taking 27 flights, one train, and two trips by automobile in making my way from city to city. This trip was a fundraiser for Make-A-Wish, and approximately $43,000.00 was raised.   All costs associated with this trip were my own, so 100% of all donations went directly to Make-A-Wish.